Gluten-Free Friday 4/12/13
by on April 12th, 2013
3 Comments
____________________________
The weeks are surely flying by at warp speed yet I am quite certain it has been at least 2 months since we removed gluten from Evan's diet. Honestly the whole process has not been that painful overall. That being said there are still things that are difficult. I do sometimes feel discouraged and want to give up, just in my weakest moments! I just sometimes feel like I will never learn all I need to know!
Some of my continuing frustrations and concerns are:
Hidden gluten! It is everywhere and sometimes I feel like everything is suspect. For as efficient as I am at researching, I often feel defeated at times at the lack of clear information that is out there. It sometimes seems hard to get a verdict on whether something is safe or not safe! Given that Evan is a small child he cannot tell me if he is experiencing symptoms or if that irritability is just coming from the 2 year molars that seem to be growing in!
The future! Right now Evan is small and it is not so hard to take gluten away. He doesn't quite understand the situation enough to lament it or complain but someday he will. Someday he may look longingly at someone else's lunch and feel bad. That makes me feel bad! I just have to try to focus on the now and worry about the future one day at a time!
Price! I think we all know that there is a price to eating healthier. Well, the price for eating Gluten-Free is even higher. The Gluten-Free grocery bill is surely moderately higher than your average grocery bill!
Am I a broken record yet? On that note I thought I would spend this week talking about some suggestions on how to save money eating Gluten-Free!
 ____________________________
____________________________
I think one of the most obvious ways to save is with coupons. There are whole websites and TV shows exclusively dedicated to couponing and certainly there are coupons available in the Gluten-Free market! I'm going to be forthright and tell you that I am definitely weak in this area! Even if I actually look up and print out coupons I rarely remember to bring them and use them. When I finely do pull them out they are always expired! I am confident however, that you will succeed where I fail so I'm mentioning it anyway!
Go research:
Manufacturer's websites and social media – Scour the websites of the Gluten-Free brands you love or want to try! Sign up for emails, newsletters, promotions etc. Check Facebook pages, read blogs, follow Twitter accounts and whatever else you can think of! I've clearly seen many brands posting coupons for $1.00 off of their products. Remember to look before heading to the grocery store!
Coupon/Savings websites –  
Stockpiling Moms – I was previously a contributing writer to this website and I know for a fact  there is a section dedicated to Gluten-Free coupons!
Gluten Freely Frugal – A great website devoted to updates on gluten-free coupon savings and more importantly advice in general on a frugal Gluten-Free life!
Be Free For Me – Save. Sample. Share. This is the motto of this Gluten-Free savings website which also offers info on other allergies as well.
____________________________
Other tips:
Buy in bulk – Make larger bulk Gluten-Free purchases online. Consider splitting bulk orders with other local Gluten-Free family and friends.
Sign-up for savings – Local health food stores often carry a variety of Gluten-Free products. Find out if yours has a savings/frequent purchaser program. One of my favorites has a card on which I can accumulate points. I will get a gift certificate after I accumulate enough points. One day a week is double points day! That is the day to shop!
Don't waste – Make sure you store your Gluten-Free products properly so they don't end up in the trash! Invest in good airtight containers. Freeze what you can until you need it!
Menu plan – I know it's hard and another area this busy mom struggles in but if you plan, you save! If you plan, you will buy less! If you plan, you go in with a list and you are more likely to stick to it! You also might pay more attention to those coupons!
Shop the whole store – It is certainly easy and certainly safe to shop the Gluten-Free section of your local grocery store. Unfortunately this is one of the most expensive sections of the store! Gluten-Free specific foods cost more! Shop the whole store! Many products available else where in the store are Gluten-Free and many are even marked so! You may still pay a premium but you should see some savings when you shop out of the Gluten-Free aisle!
Get advice from friends – Have other Gluten-Free friends or found an GF community online? Ask them what they like and why! If you get some good advice you can avoid the costly trial and error! You could pay a lot for a product and hate it but with some advice you might avoid this! In a similar vein browse gluten-free recipe blogs to see what the experts are using!
____________________________
____________________________
That was my big brain dump of the week but I know there has to be more ways to save? Got some ideas? Drop me a line! I'd love to add them to my list!
Oh I almost forgot Lunch! Here are a few selections from Evan's lunches this week!
Lunch #1 served in a Glit & Brillia 2 Tier container – Mini chocolate chip pancakes (no glory these were made with a GF mix which I added Enjoy Life chocolate chips to) served with Maple syrup. A cheddar cheese stick is tucked in. A simple fruit salad of kiwi, grapes and blueberries is in the other tier.
Lunch #2 served in a Leaflet Tight container – A slice hard boiled egg is served next to Puffins Multigrain cereal (Gluten-Free and delicious but note not all Puffins cereal is GF), cooked carrots, blueberries and sliced heirloom tomatoes tossed in a GF Balsamic dressing.
Lunch #3 served in a Paperchase Nesting container set (thanks Eats Amazing for the gift)- Annie's Homegrown Gluten-Free Mac n Cheese (we just had to try it and Evan loved it) is in one box. A Caramel GF Quaker's Rice Cake is is another. The final box containers cubed cucumbers and nectarines.
I'll be back next Friday but until then check out these blogs for more daily lunch ideas!
Biting the Hand That Feeds You
Oh and Evan? He is doing great! No new progress to report but no relapses either!
Sincerely,


Products used in this post: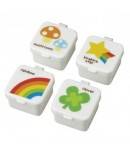 Related Posts via Taxonomies
Tags: Gluten-Free, Preschool, Toddler Lunch
Categories: Uncategorized