New Tools, You Rule!
by on March 4th, 2013
No Comments
I know I can pack a beautiful, healthy lunch without using any special tools and often I do! It is however fun and extremely convenient that there are a growing number of lunch packing products on the market. The art of decorating and organizing lunch boxes is a craze sweeping the nation! Often you'll hear this craft call "bento" or "Americanized bento". The bento originated in Japan and is a takeout meal served in a container traditionally containing fish, rice and vegetables. Japanese Bento artists can spend hours arranging intricate characters or scenes to be just right in their bento box. You almost hate to see them eaten! The Americanized bento box is similar but typically less complicated.
In response to this craze manufacturers are now regularly stocking items such as egg and rice molds, sandwich cutters, food picks, special knives and tweezers for cutting and placing small pieces, lunch boxes of all shapes and sizes, silicone cups and bento baran. Now I like to pack a colorful, healthy lunch irregardless of tools but I have found that I really enjoy trying the different tools. I can add a touch of fun to every lunch box without much effort. Honestly I don't consider myself a true bento artist as often I may only have one small detail in my lunches as opposed to intricately arranged scenes! However, I often feel like I have created a piece of art for my family members! I know my family appreciates the variety and sometimes even give me special requests! I know many an individual out there in internet land dreams that I perhaps spend hours decorating my lunch but I assure you that is not the case! I must pack lunches for my 3 boys or they will not eat so this is time already allocated for me! I may spend an extra 10 minutes making it special or sometimes even less if I plan for efficiency. To me this is not a lot of extra time considering I am doing something that I enjoy! When I am having a crazy morning my family still gets an undecorated lunch in a box, bento at it's basic level but no less tasty!
I recently acquired a couple of new tools that I used in today's featured lunches! Trevor's preschool lunch (pictured above) was made using a new sandwich cutter (product link at bottom of post). This tool cuts a slice of bread into 4 squares and contains 4 face stamps to choose from; a cat face, a duck face, a pig face and a bear face. I let Trevor choose the faces he wanted. He chose the duck and cat which are pictured above. To make my stamp impression a little bit clearer I did run a rolling pin over my bread before cutting and stamping. The sandwiches really look sweet and were made efficiently with just one slice of bread. His lunch is packed in a Lunchbots container and also includes: green grapes, blueberries, grape tomatoes, cheese stick and some popcorn chips.
I packed 2 identical lunches for the grown ups assembly line style (lunch pictured below). The leftovers were actually packed directly into the lunch container after dinner. This really saves me time in the morning if I pack everything but the crunchy snacks. When serving food together in a container it is always best to add crunchy snacks last minute since they will absorb some lunch box moisture. In these lunches I used my new large oval silicone cups (product link at bottom of post). I know I am going to love these. These cups not only divide up the large compartment of my Easylunchboxes but can also be easily removed to microwave food like my leftover meatballs and rice. Now that truly is convenient for someone like me who packs everything in one container to avoid using disposable bags and wraps!
Sincerely,


Lunchbots products used in this post available here:
Other products used in this post: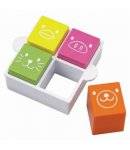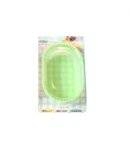 Related Posts via Taxonomies
Tags: grownup lunches, Lunchbots, Preschool
Categories: Uncategorized